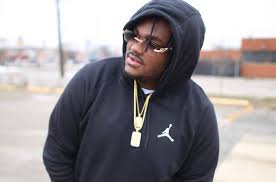 What Is Tee Grizzley's Net Worth? $700,000
Tee Grizzley is a rapper who begin his career in 2016 with the release First Day Out. Since then he has continued to release music and rapidly gain a following and fanbase.
Personal Life
Where does Tee Grizzley Live?
Tee Grizzley currently owns a bome in the suburbs of Georgia.
What is Tee Grizzley's sexual orientation?
Straight
Who is Tee Grizzley's wife?
Tee is not married at this time and very little is known about his dating life. He has been seen spending time with a woman presumed to be his girlfriend but her name and the exact nature of their relationship has not been made public.
Height, Weight, Hair
How much does Tee Grizzley weigh?
227 pounds
How tall is Tee Grizzley?
6′
What is Tee Grizzley's eye color?
Brown
What is Tee Grizzley's natural hair color?
Black
Fun Facts
He was mostly raised by his grandmother.
He attended Michigan State University until he had to drop out for financial reasons.
He was an excellent student in high school and college.
He wrote his song First Day Out while in prison.
He has a sister.
Tee Grizzley will continue to produce and write music throughout 2018.