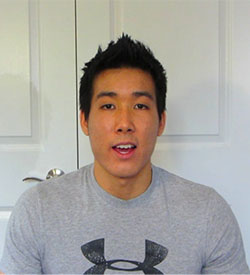 Vanoss is a video game commentator and gaming enthusiast from Canada. Although he is best known as Vanoss or VanossGaming, his real name is Evan Fong. Vanoss has a YouTube Channel that currently has over 20 million subscribers. With all the money he receives from YouTube subscribers, his gaming network and other ventures, Vanoss is climbing his way up the money ladder.
Vanoss has a very strong fan base that have followed his online gaming career into the world of YouTube. As of the Summer 2017, his YouTube Channel was ranked in the top 20 most subscribed channels. His estimated net worth is quoted at roughly $13 million through the video gaming network and his other ventures. Although the success of his career seems to be abrupt, it has taken Vanoss many years to establish his online persona and fan base. Daily, Vanoss creates videos and plays games with friends that are easily earning him a minimum of $10,000 daily through YouTube.
Vanoss has always been first and foremost a video game commentator, which he started this career in 2011. It was in the summer of 2013, that Vanoss choose to become a YouTube Channel Star. Since Vanoss has used his popularity to expand his business ventures, his presence in social media has skyrocketed. Currently, Vanoss has over 2 million followers on Instagram and Twitter. His high net worth makes Vanoss one of the top grossing YouTube Star's in 2017. Other than video games and his YouTube channel, Vanoss has a website that he sells merchandise to his growing number of fans. His website has limited merchandise such as a Vanoss Mask and Hero Suit, Vanoss Hero Shirt and a Vanoss "Banana" Dad Hat. His website also sells t-shirts, posters, stickers and hats. With the average price of his merchandise ranging between $4.99-$49.99, his website earns quite a bit of extra change that heads into Vanoss' pocket. However, one thing is certain, Vanoss branding is going strong and he will surely increase his net worth value from this venture.
Vanoss chooses to keep many things private in personal life and therefore does not divulge too much information to his fans. Due to the lack of information, it is unclear as to whether Vanoss owns property, real estate or any other type of collateral that would higher his net worth value. As time passes and the online gaming community and YouTube subscribers continue to click on Vanoss' videos, his net worth will continue to rise.