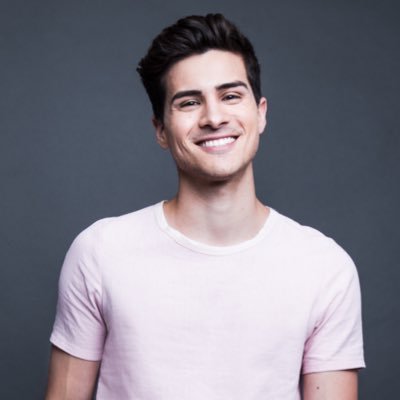 Anthony Padilla is an American comedian and YouTube personality with a current net worth of $15 million. He makes up half of the comedian duo Smosh. The other half is his best friend Ian Hecox. Together they began Smosh Productions.
He was born in September of 1987 in Sacramento, California, and at the age of two, his parents split up. He also has two brothers, one of which being Matthew Padilla. Anthony studied at Del Campo High School situated in Fair Oaks, California. There, he met his best friend, Ian Hecox, and after graudation, they both went to American River, though they dropped out after a couple of years.
He started posting flash animations under the name Smosh back in 2003, and after two years, he started the YouTube channel under the same name. In November 2016, his channel gained over 22 million subscribers, along with more than 6 billion views. Smosh channel has been named the most subscribed channel on three separate occasions. He released comedic music albums "Sexy Album" and "If Music Were Real" in 2010 and 2011 respectively.
Anthony has also produced numerous series, such as Smosh Pit Weekly, Zombies vs. Ninjas: The Web Series, Ask Charlie, El Smosh, Just Shut Up!, Oishi High School Battle, Honest Game Trailers, Samurai Daycare, 16-Bit High School, Smosh Babies, Part-Timers, and much more.
In 2014, Anthony also won the Streamy Award for Smosh Games in the category of Best Gaming Series. The earnings of Smosh Productions range between $7 and $10 million from their different entertainment endeavors. These figures are enough to rank them as the highest paid YouTube celebrities.
In his videos, viewers often see him as the smart half of the Smosh duo, because he is often depicted in the videos as knowing more than Ian. In 2002, Anthony made a website called Smosh.com and posted some flash animation there – and it all began. "Smosh" is the word that comes from an incident where he said 'a smosh pit' instead of saying 'a mosh pit'.
In 2005, both Anthony and Ian shared some videos of them lip-syncing the theme songs of Power Rangers and Mortal Combat. They had no intention of posting it on YouTube, but after sharing these videos with their friends, they started their own channel and began the work. One of these videos is "Pokémon Theme Music Video", which in 2005, became the most viewed video on YouTube. But they had to delete it due to copyright issues. After the success of this video, the Smosh duo was featured in Time Magazine in 2006.
Their channel continues to be among the most subscribed on the platform, and on three occasions, it has been named the most-subscribed channel on YouTube. Anthony Padilla is currently the joint owner of six different YouTube channels and fully owns another one. Anthony has a charming personality and an excellent sense of creativity, which allowed him and Ian to gain a lot of social media success.